About Us
For the Latest News on Nom Nom Ramen, go to our Facebook website:
http://www.facebook.com/pages/Nom-Nom-Ramen/278457798897242
About Ramen Chef Alan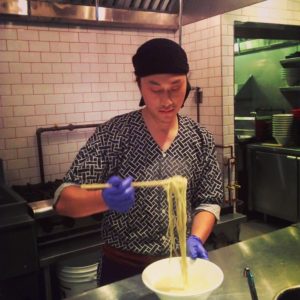 Love at first Slurp:
Alan have a passion for ramen. After slurping his first bowl of authentic Japanese ramen, he could not believe he have not tasted anything more delicious! Soup, noodles, protein and vegetables all in one bowl. Everything came together in a cosmos of delicious. It was… "nom nom". From then on, with reckless abandonment, Alan set out to eat, sleep, drink and live ramen with the dream that he would be able to spread the deliciousness of ramen. There was no boundaries that would keep Alan from his love of ramen. He quit his job to begin his ramen journey: traveling the world to slurp the best ramen from all over the world from California, New York, Hong Kong, to Japan. During this time, Alan was so happy to get the opportunity to work at two of his favorite ramen shops, Santouka Ramen and Ippudo Ramen, to hone his passion for making great ramen. These two ramen shops serve to inspire and heavily influence him to create his own style of ramen steeped in Japanese traditions with modern techniques.
In 2012, Alan's dreams came true when he opened his first ramen shop called Nom Nom Ramen in the heart of the financial district of Philadelphia. Nom Nom Ramen was the first to bring Hakata style ramen which uses rich and silky tonkotsu (pork bone soup that takes three days to prepare) to his home city. The restaurant won several prestigious awards with the proudest being the recipient of Best Ramen 2012 and Best Japanese 2013 by Philadelphia Magazine.
To continue this passion for ramen greatness, Alan is constantly refining his craft and bringing new flavors that have not been experienced before. With the ability to source the best ingredients locally and from Japan with beautiful crafted silky broth and fresh made noodles, Alan's dream is to create ramen experience that you too will have the same impression he had when he first slurped ramen…and that is, "This ramen is Nom Nom!"